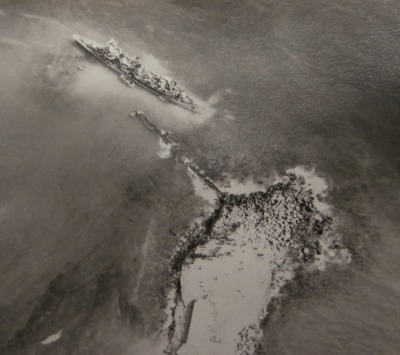 Above: Bache rests outside the harbor at Rhodes, Greece. Photo found at the National Archives and Records Administration. Official U.S. Navy Photograph. I believe it is USN No.  112748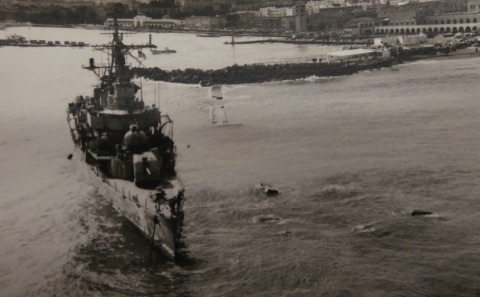 Above: Bache rests outside the harbor at Rhodes, Greece. Photo found at the National Archives and Records Administration. Official U.S. Navy Photograph. I believe it is USN No. 1129751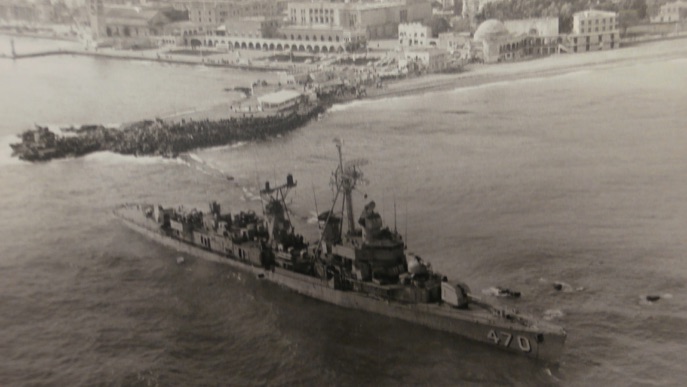 Above: Bache rests outside the harbor at Rhodes, Greece. Photo found at the National Archives and Records Administration. Official U.S. Navy Photograph. I believe it is No. K-44494. Dated February 6, 1968.
During hurricane force winds, Bache dragged anchor and ran aground on rocks off Rhodes harbor in Greece on February 6, 1968. Of the 200+ man-crew, no injuries were reported. Twenty-eight men stayed aboard while rest of the crew went ashore. In the Roosevelt Roundup, Lt. Cdr. Waldner reported that Bache was "flooded to a level eight inches above the deck aft and twelve inches below the deck forward."
The Ierax (a Greek navy destroyer), USS Franklin D. Roosevelt, USS Hoist, USS Vogelgesang, USS Conyngham were sent to Greece to assist. In the Vogelgegang cruisebook, it was reported that USS Vogelgegang was the first ship dispatched and that "she steamed the 240 miles between Crete and Rhodes at 32 knots."
Although salvaging began by February 9, 1968, Bache suffered subsequent damage in an additional two-day storm on February 18, 1966, leaving the Bache without a bottom. On February 22, 1968, The Victoria Advocate reported that Bache was breaking apart and that attempts to refloat her would be abandoned.
Bache had been on a routine visit to Rhodes. The sailors of the Bache were evacuated to Sixth Fleet bases.  Comdr. Broadwell was court-martialed, charged with "negligent hazzarding of a vessel." He was sentenced to a reprimand.
The wreck that was the Bache was removed by N.E. Vericos Shipping Co., Ltd, a Greek salvage company.
USN, Mud, Muscle, and Miracles: Marine Salvage in the United States Navy (ISBN-10: 1505468884; ISBN-13: 978-1505468885)
NY Newsday, "U.S. Ship Aground, Splitting Up," February 6, 1968
The Christian Science Monitor, February 9, 1968, p. 2
The Victoria Advocate, February 22, 1968
The Washington Post, Times Herald, "Navy Officer 'Negligent' In Mishap," May 14, 1968 by John Maffre
New York Times, "Commander of Destroyer Sentenced by Court-Martial," May 15, 1968
For a first-person account, please see "Death of a Destroyer," in the Quarterdeck, Issue 2 of 2012, page 4 (click Newsletters in the menu at the top of the page). It was written by C.W. Distelrath, who was aboard Bache when she ran aground.